My latest acquisition of a splendid vintage Garrard turntable has turned from a simple restoration to something of an epic job.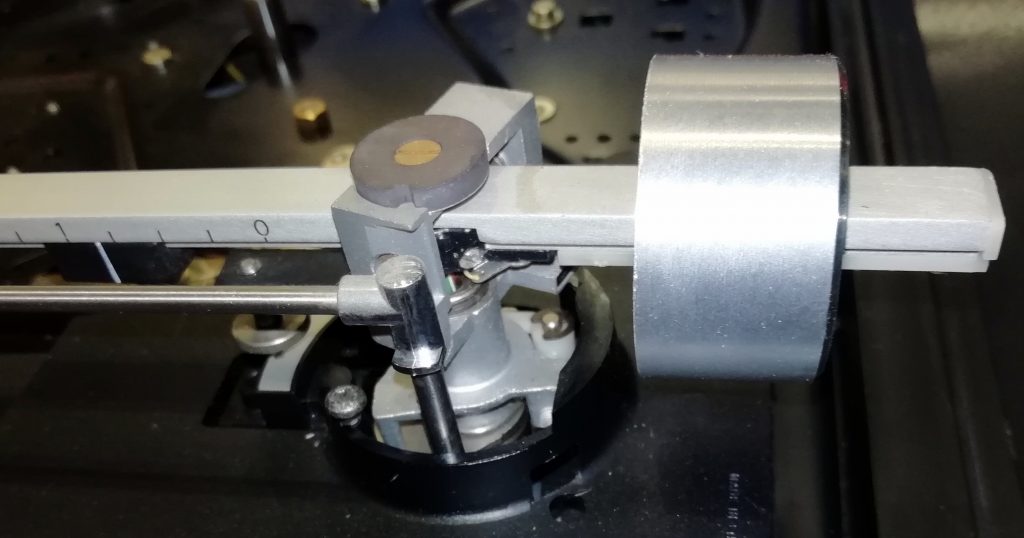 All was going well. I had got it working and was about to re unite it with it's plinth. Then I dropped it. Now I have new damage to fix.
The most obvious damage was to the motor. Fortunately I successfully repaired the Synchro lab motor. Before setting out on that repair, just in case the damage was terminal, I decided to hedge my bets and look out for a replacement motor or maybe a full turntable for spares. It's just as well because I have since noticed that the arm was damaged in the fall. There may be even more damage? I'll soon find out.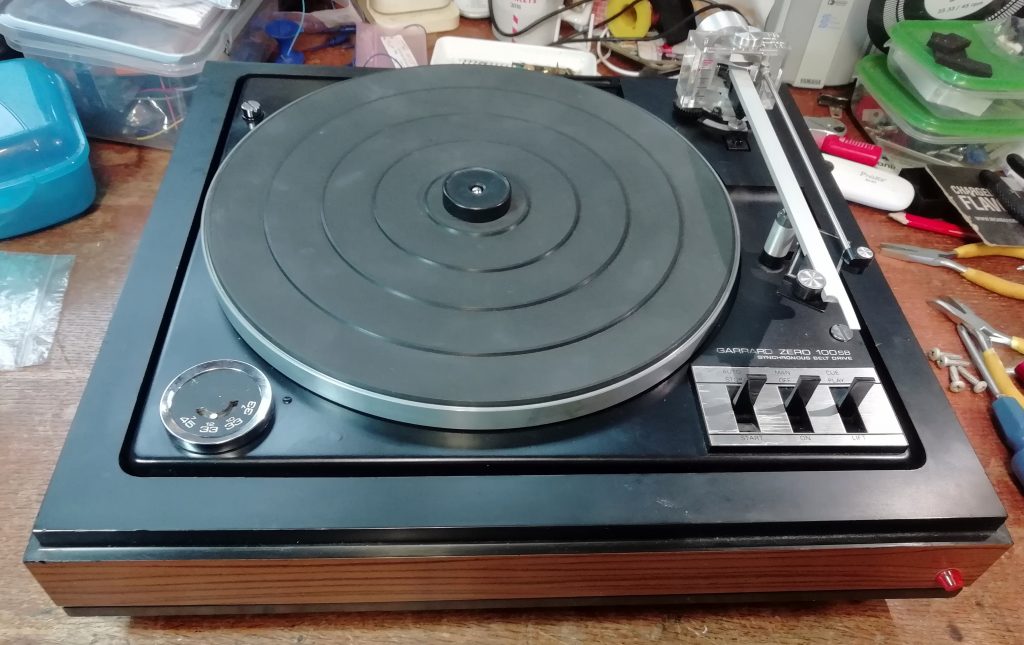 As look would have it a Zero 100SB for "spares or repairs" came up on e-bay.  It's exactly as described. First thing I did was to swap the motors. Even though I had repaired the original, this one was in better condition. The arm looks to be in good condition and returns to it's rest, unlike mine.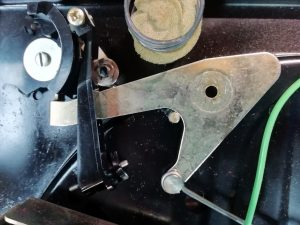 It's cosmetically a bit rough as advertised. Under the bonnet I can immediately see the reason for the declared fault. The circlip on the selector follower is missing and the part is floating free in the chassis. That would explain why it thinks all records are 7″ diameter.
The plinth is a horrible plastic thing. Scratched and bent. Even so, I'll probably use the mounting plate at least. Maybe I'll make a repair stand, or perhaps build a nice wooden plinth like I did for my Dual 505.
This deck is definitely one for palliative care only and is therefor a prime donor for transplant surgery on the other deck. A nice bonus is the cartridge carrier. I will certainly use this, as I like swapping cartridges from time to time. I only paid £15 for it. That's a lot of great spares for very little money.
Just by comparing the two decks I noted the bent spring on the pickup cam assembly which was preventing the arm from returning to rest properly. I could have swapped the parts over, but that's quite an involved job. A pair of pliers successfully straightened the spring and restored correct operation.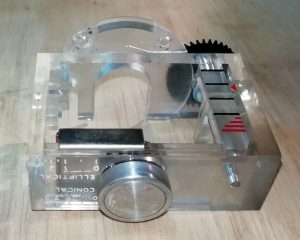 It seems that the perspex gimbal surround took the brunt of the impact. Look at that crack! This is after I had super glued the main break together! This component incorporated the play counter and the magnetic bias system. These are unique features of the Zero 100, so it was important that I was able to replace this with an intact donor component.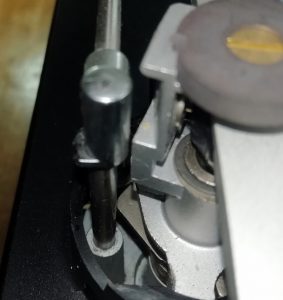 The other damage was to the guide pivot. This is a simple ball and socket joint and should line up. The impact had bent the joint to the point where the guide was popping out. This was another case were transplant would be good, but hard. Straightening with pliers solved the problem again.
I ended up only using the motor and gimbal surround from the donor turntable. Even so , the donor was a useful comparison vehicle and I have the peace of mind of having those difficult to get spares in hand.
My Zero 100 was bought cheaply from eBay. I added a new belt and bought a second tatty example for spares. Total outlay about £50. Some cosmetic repairs were necessary, as was attention to bent mechanics and lubrication. Then I dropped it, resulting in a motor re build and further spare part surgery. All in all about 2 months from purchase to fully refurbished.  All is running smoothly now. It looks and sounds great.