The big round illuminated dial looks great on this 1971 Tuner from Sony. I have a particular fondness for it because one was part of the first real HiFi system I encountered.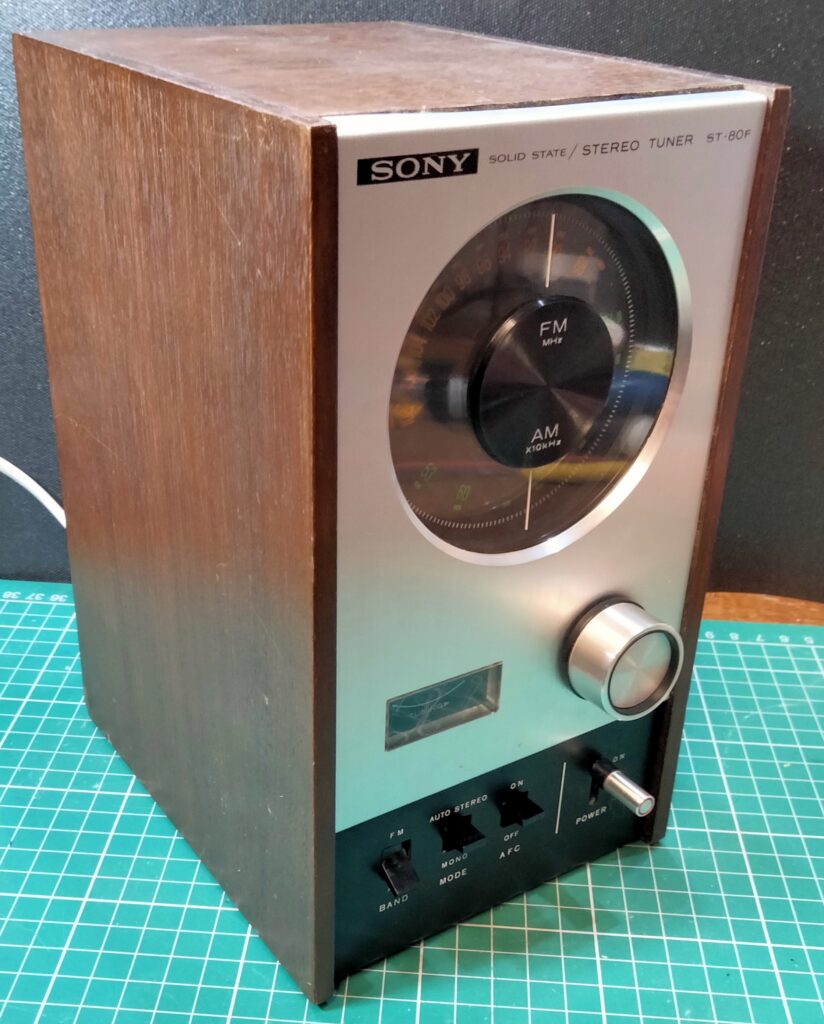 It belonged to my sisters boyfriend. I was allowed to listen, but definately not touch.
A contempory of my TC 377 tape recorder, it shares the polished chrome and black finish, black plastic toggle switches, analogue meter and the wrap around wooden cabinet.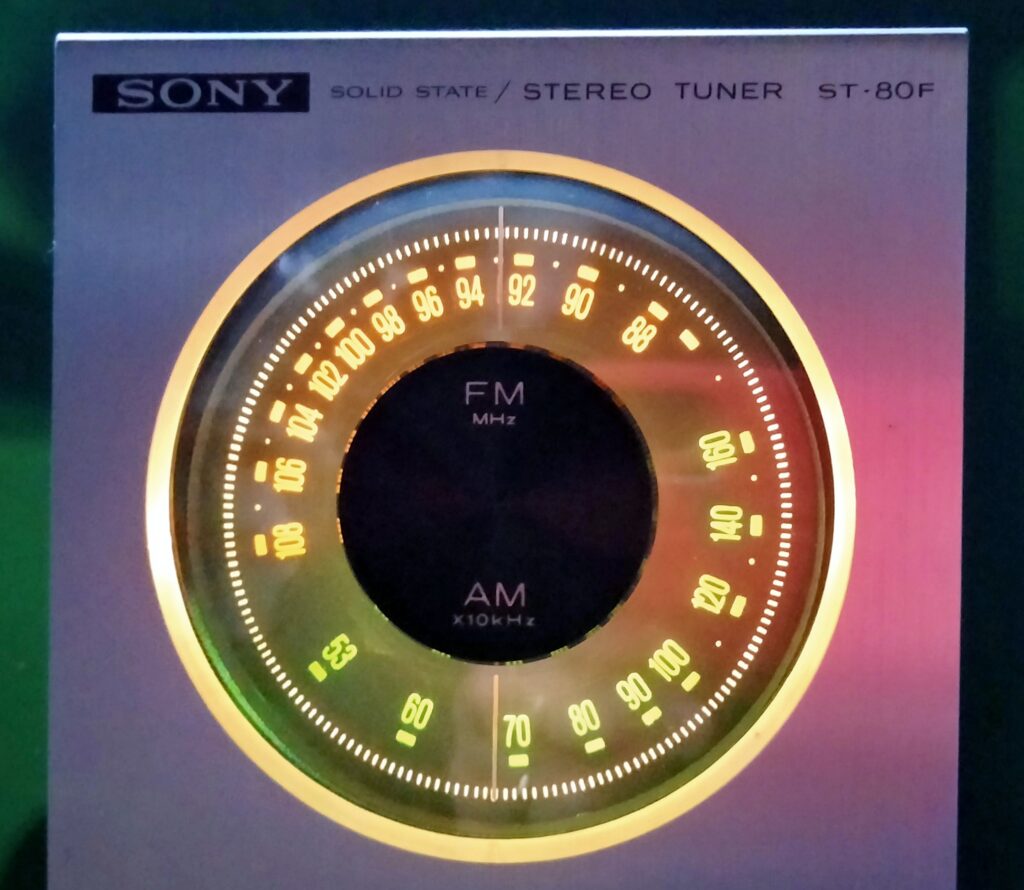 For me the great aesthetic feature is the big round illuminated dial which looks resplendid presented in portrait aspect ratio case. When paired with the matching TA 88 Integrated amplifier and a pair of compact bookshelf speakers this would form the heart of an early incarnation of the Compact HiFi systems which would become popular decades later.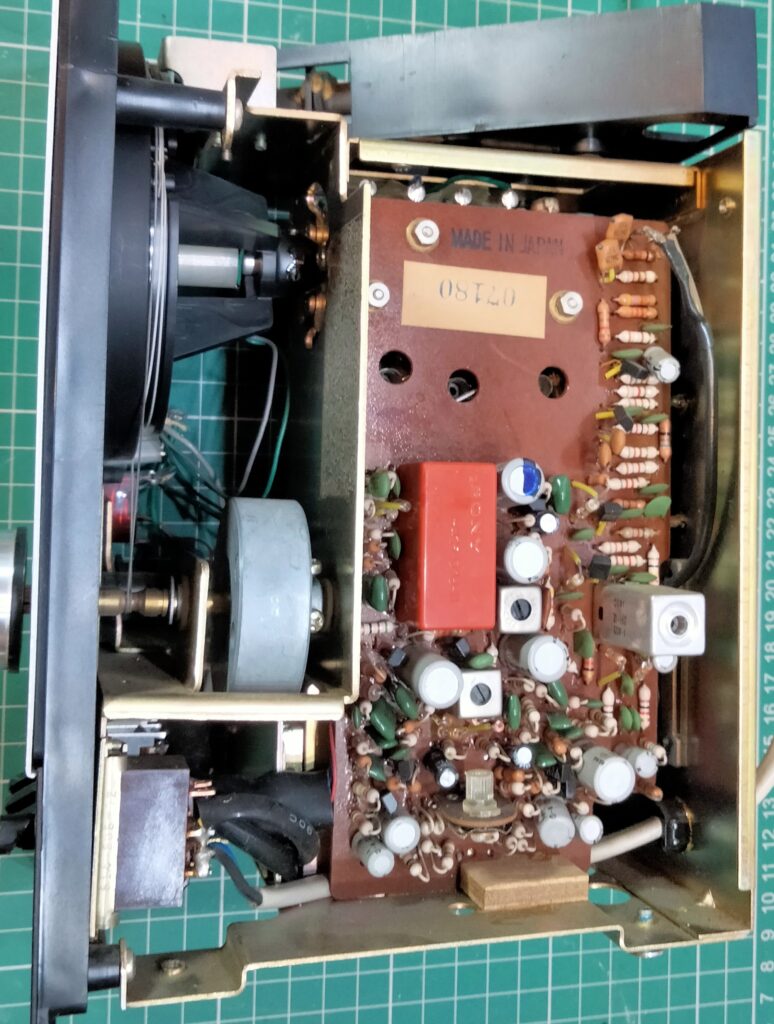 Inside the build quality is excellent, as you would expect from an early Sony. The tuning knob has a heay metal flywheel and is geared down to the dial with pulleys and a spring tentioned cord. Resistors, capacitors and transistors abound, but it is the small tuned inductors and the enormous variable capacitor which identify this as a tuner.

The variable capacitor works by rotating one set of semi-cirular plates against another when the shaft is turned. Varying the amount by which the plates overlap changes the effetive plate area, and so the capacitance. Inductors and capacitors together make a tuned circuit which responds well to a particular frequency.  The skill of the designer lies in chosing component values such that the circuit is "tuned" to the frequency which corresponds to the station you want to hear. The value of the inductors is set at the factory, but you can change the capacitance yourself. That's how you get to select your station of choice.  The circuit here is a "Super Heterodyne" . That was the standard way of doing things then.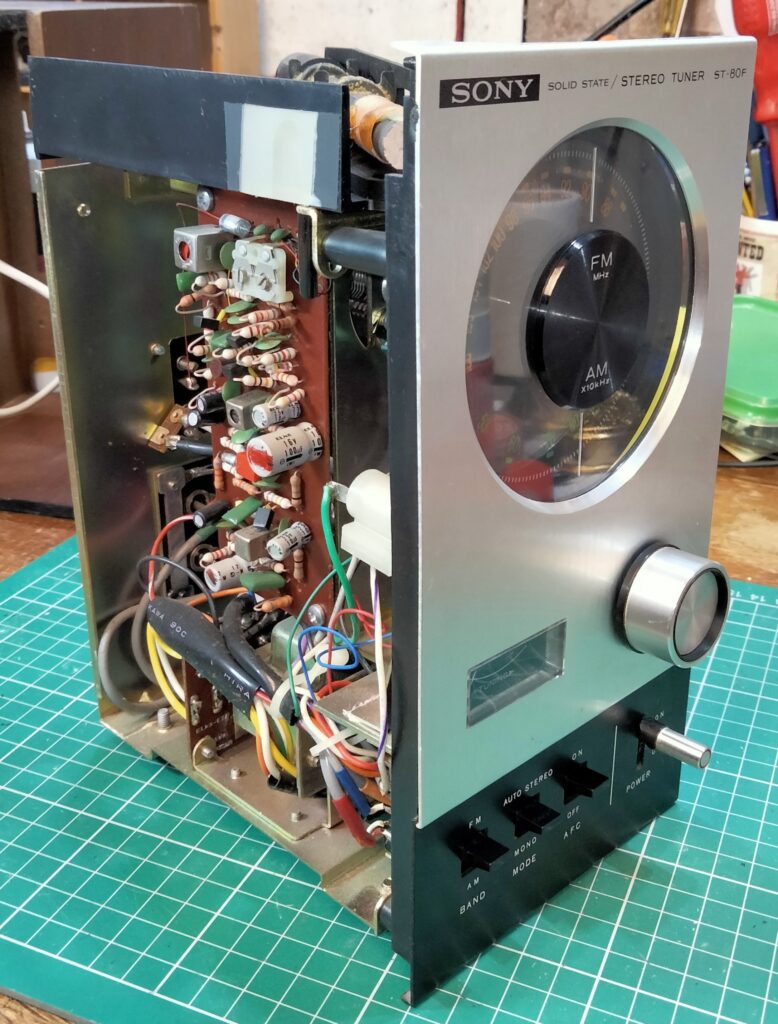 Alas for me the sensitivity is insufficient for daily use because I don't have the necessary roof aerial to get the best from it. A 1973 Sony ST-5066 is my daily listen on the workshop system. It's surprising how much the technology moves on in just a couple of years.