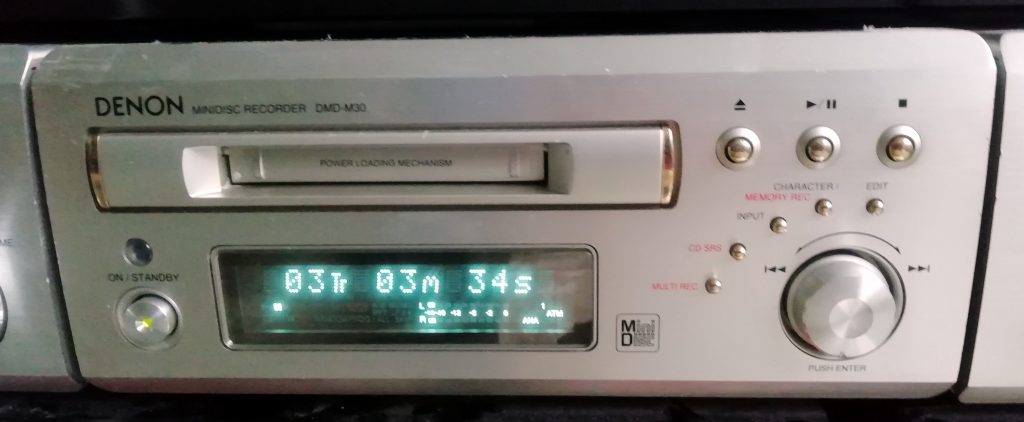 I love Denon Mini systems and I love Minidisc. So, why was this a disappointment?
By my standards Minidisc is a very modern technology ( I'm listening to reel to reel as I type this) but I do like it. I'm also a massive fan of the Denon Mini HiFi systems. I have three UD-M30 receivers around the house. Two as secondary systems in other rooms and a spare. The UD-M30 in the lounge had the matching cassette deck added last year. When I saw this in the Cash generators Pawn shop for £30 it had to come home with me to complete the set.
Powered up first time, which is not always a given with Pawn shop buys. Then I tried to play a disc. Silence. The display did usefully advise me that it was an MDLP recording. MDLP, Minidisc Long play, is a version of encoding introduced after the initial release of Minidisc. It provides for twice the length of recording with good fidelity and four times without. My other 3 machines support MDLP, so I tend to record in MDLP LP2 mode.
Standard mode recording is fine and I have a number of 2nd hand discs recorded this way. I was able to quickly establish that the new machine was not faulty and did in fact sound great. I have since changed the recording mode on my MDS-JE480 which I use for recording. New recordings will be suitably portable.
It's interesting to note that this machine couldn't play MDLP discs but did know what they are and told me. I would have expected it to either know enough to play properly, or ignore the tracks altogether. Maybe the software was new enough to recognise MDLP, but the processing power to decode and playback wasn't in this particular box. Or is this a marketing ploy to persuade the owner to upgrade? 
Either way, I'm still very happy with this player.