This is how mine looks today.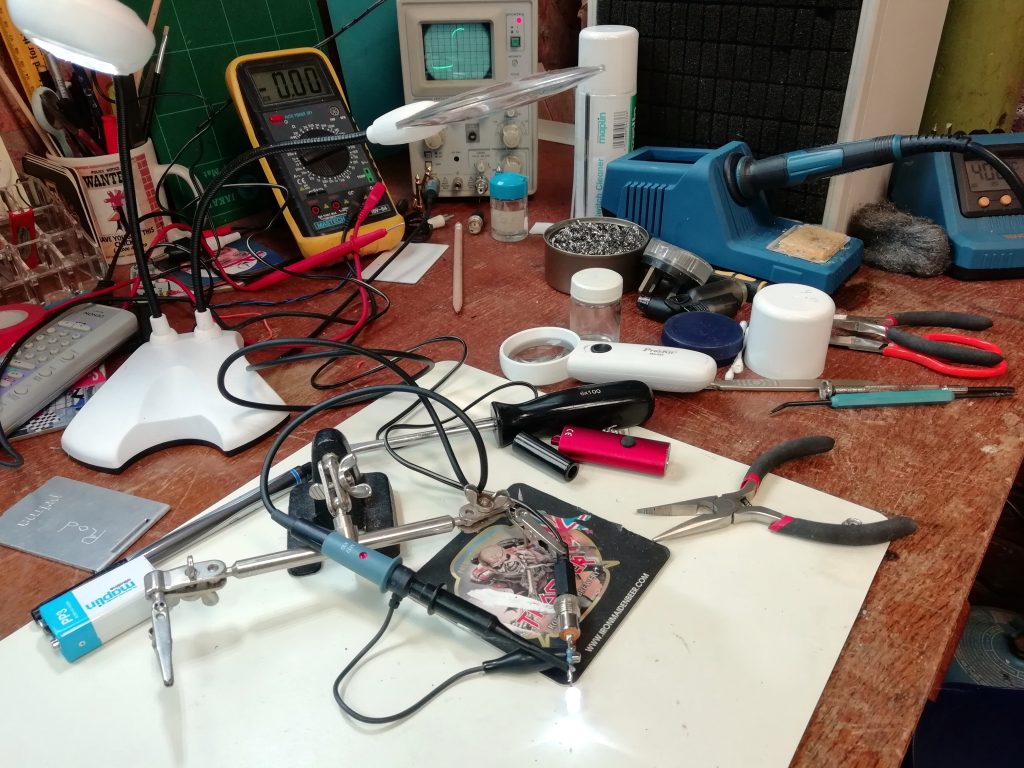 In this case the science is creating a 50 Hz strobe for measuring turntable speed.
My workbench is an old office desk at the end of my garage by the window, so I get light to work by. The garage does not have a connecting door to the house, but there is line of sight to the house side window. I have a doorbell installed so that somebody in the house can attract my attention then use sign language to indicate "dinner is ready" or "cup of tea on the shelf in the hall for you"
As well as a comprehensive range of regular DIY tools accumulated over the years. I also have some electronics specific tools and test equipment.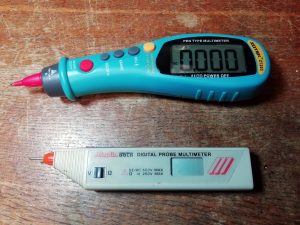 A decent multi-meter is a must. I have regular meters, with large display and a dial on the front, but I prefer hand held. I have had the small Maplin meter above since I was a boy. It has recently become unreliable, hence the new replacement. It is a better meter, but less convenient to use.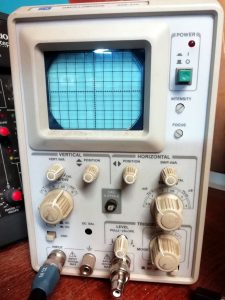 I rarely use my oscilloscope, but it does have it's moments. It is a simple single channel affair intended for educational use. A far cry from the state of the art 4 channel digital equipment I used to use at work in the 90's, which cost as much as a house back then!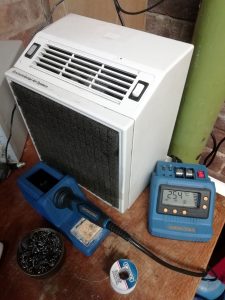 Decent soldering gear is essential for repair work. As is knowing how to use it! This is my "rough work" iron. a cheap soldering station from Aldi. I has no finesse whatsoever, but goes nice and hot and stays that way. Great for un-soldering things where you need to get a lot of heat in quick. The beige box is an extraction fan and carbon filter system. Important if you are planning to do a lot of soldering or in a production environment. Probably overkill for the hobbyist. Mine was a boot sale find, so I use it.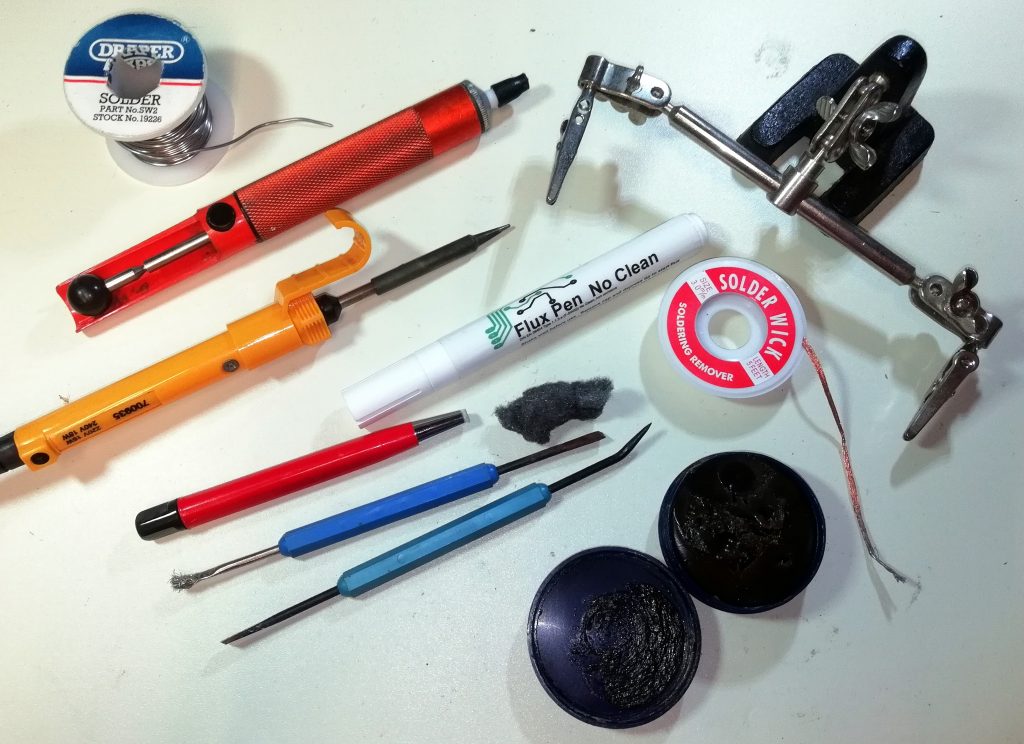 For more delicate soldering work a finer iron and tools are needed. I like Antex soldering irons. 'been using them for about 40 years. you get a lot of decent engineering for your cash. Above that is a mechanical solder sucker and a reel of full on LEAD based solder. A better choice for working on vintage gear than the lead free alternatives. Just be aware of the health implications if you chose this route. We also have flux, both in paste form and in a handy applicator pen. The long tools are for cleaning up the work piece. Scraping tools and a fibre glass abrasive pen. Also, a piece of very fine wire wool. For removing solder i use a combination of the solder sucker and solder wick. There is a knack to using either, and both are worth learning if you are to take stuff appart without trashing it.
These are photographed against the anti static matt, which is important. No, really, it is. I lost far too many hours of my professional life tracking down problems which were caused by careless handling of components and circuits. I remember once walking the full length of the office on a nice new nylon carpet to my boss's desk to ask him what he wanted me to do next. He took a ,presumably faulty, circuit board from his desk and offered it to me. "See if you can make this fail" he requested. As I reached to take it off him a static spark visibly (and painfully!) jumped from my finger to the board. "That should do the trick" I quipped. His bad, fortunately for me!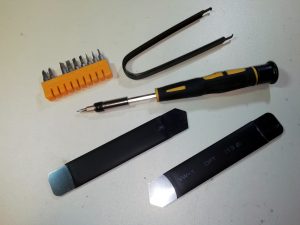 Before you can fix anything, you need to get inside. Sometimes regular DIY tools just don't cut it. I find this precision screwdriver with interchangeable heads very useful. The stainless steel blade tools at the bottom are known as "spudgers". they are used to prise open stubborn plastic assemblies like Walkman and mobile phones.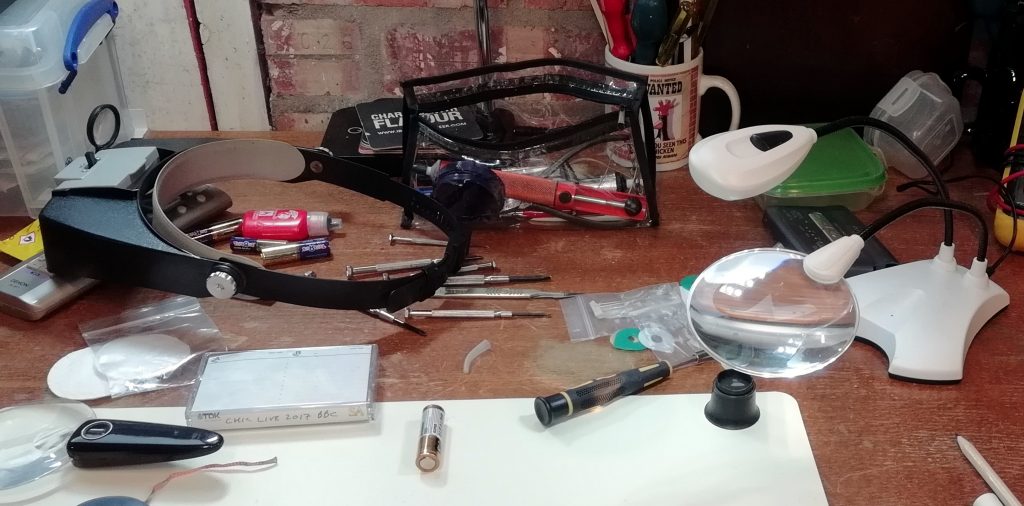 Plenty of light and magnifiers are also your friend, especially for those of us who are not still in the initial flashes of youth. Here you can see a loope, two magnifiers, a head magnifier and an inspection lamp. Finally, if you look carefully, a Feathers McGraw mug.