My friend Anita found a 5 inch reel to reel tape from her childhood. I offered to transfer the contents into mp3 files so she could hear herself again.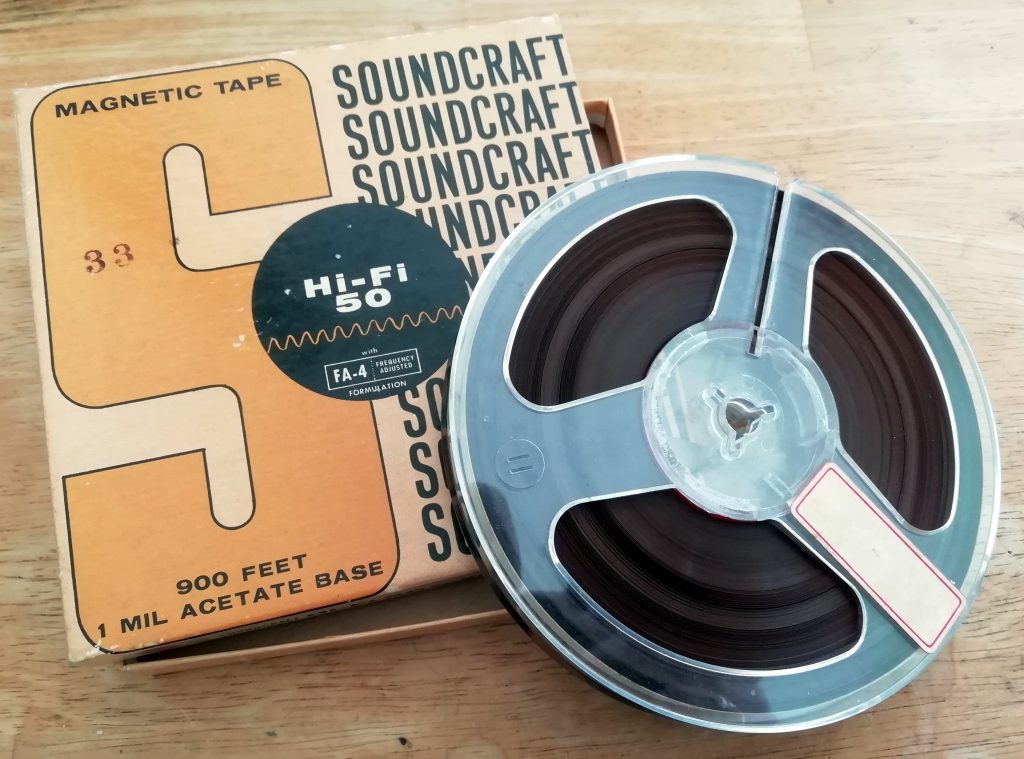 Should be a straightforward job. Famous last words.
The  tape is on a 5 inch reel and is certainly over 50 years old (sorry Anita!). Tapes can be recorded at different speeds and have different layouts on the tape. Trial and error convinced me that this was recorded at 1 7/8 inches per second (ips) 2 track mono.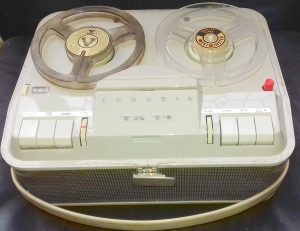 I have two open reel machines. My Grundig TK 14 is a mono recorder which takes up to 5 inch tapes. This machine is old enough to be valve driven, so it weighs a ton, while claiming to be portable. The TK 14 is a single speed machine and that speed is 3 3/4 ips. Twice the speed it was recorded at, so it sounds like chopmonks. This won't do.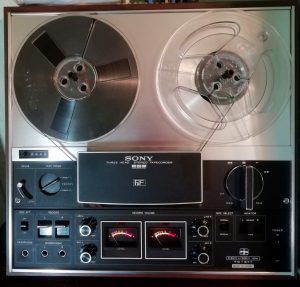 The other option is my Sony TC-377. This is a 4 track stereo machine capable of 3 3/4 ips, but also 7 1/2 and 1 7/8 ips.q It can run slow enough, but the stereo head is not ideal for reading the mono signal because of the way 4 track stereo interleavs left and right on the tape.
Whichever machine I chose to use the recording will end up in the excellent free audio recording and editing software Audacity. Given that neither of my machines can just play this tape some sort of digital processing will be needed. Audacity is certainly up to the job.
Transfer was done by recording the stereo output of the Sony through a SoundBlaster live USB sound card into Audacity on a laptop. All didn't go well. The leader tape decided to wrap itself around the capstan and jam the machine solid.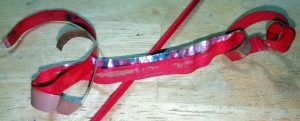 I can strip and re build my '377 quicker than James Bond can his Walther PPK, so it only took me half an hour to free up the mechanism. The culprit was this metal splice on the leader tape. I'm guessing it is there to trigger auto reverse on some machines with that facility. On mine it just did an auto stop!
You might expect a stereo playback of a mono recording to deliver identical content in the right and left channel. Not so I'm afraid. The machine actually detects side 1 of the tape as the left channel and side 2 in the right channel. Side 2 is read backwards.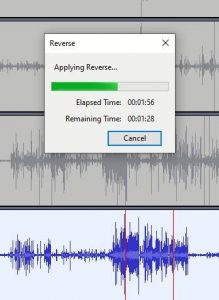 Fortunately in Audacity it is easy to reverse the audio so it plays "backwards". Of course if it started that way it will now play forwards. The final step was exporting the audio as mp3.
I will provide Anita with the mp3 files and the whole Audacity project on a usb stick as soon as we can meet up. Hope she enjoys it.